Teamwork makes the dream work, as the saying goes. At Avail Senior Living, we have many dreams to accomplish, and that's why we feature a fantastic array of talent to provide unparalleled assisted living and memory care services to Cleveland seniors.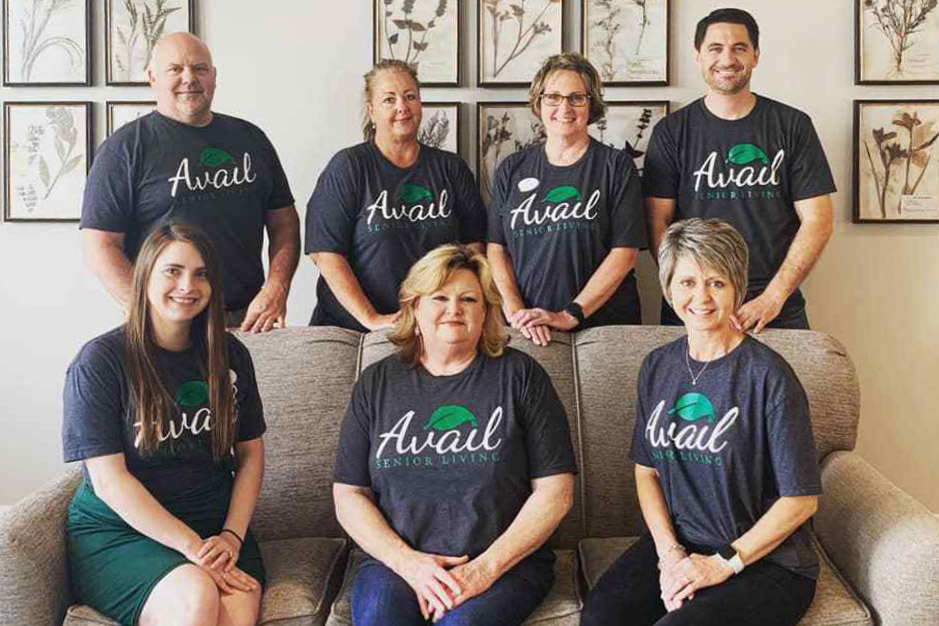 There is so much that goes into keeping a community like ours running seamlessly, but with a cast from diverse backgrounds all getting together to accomplish a common goal, we are helping seniors live their best lives in Tennessee.
How does a day at Avail Senior Living start?
The sun shines over Cleveland, TN, and residents of Avail Senior Living bask in one of the screened-in porches while sipping coffee and listening to the song of an eastern bluebird in the distance. The day is just getting started.
Carrie Villines, Avail's Activities Director, walks by to greet the early risers; she guesses where the song callers are sitting. "See y'all at tap dancing later today," Carrie says.
For over two decades, Villines had expressed her passion for life through dance. She started the Momentum Academy Dance and led many Cleveland youth to dance championships. She has now focused on teaching kids of all ages the power of expressive movement in addition to filling up our monthly activities calendar.
Activities at Avail Senior Living:
Wellness

Tai chi
Chair yoga
Sit and stretch
Tap and Broadway

Outings

Strawberry picking at Lamon Farms
Ice cream and lunch
Scenic rides to Ocoee

Relaxing

Gardening
Cooking class
Painting
On-site salon
Private dining room available for family gatherings and church groups
How will Avail satisfy my appetite?
A Louisiana native, our Dining Services Director Terri knows the importance of a home-cooked meal.
"My grandmothers are gone now," says the Louisiana native, "but their specialties live on with simply put titles such as Granny Icing or Maw's Cornbread Sticks."
Terri learned about "scratch" homestyle cooking from her grandmothers, but the story of how she ended up at Avail is the true testament to her character.
A public school teacher of 30 years, she began to find the confines of the classroom to be creatively hindering her desires to entertain others and create étouffée.
"I began a cottage catering business. Eventually, I was able to retire from public education and focus my efforts on large-scale cooking and event catering."
We commend the compassion it takes to instruct the youth, but her newest venture truly shows Terri's passion.
At Avail, we love to get to know residents' favorite dishes growing up, and with Terri behind the scenes, we can introduce new cuisines for everyone to enjoy. C'est bon!
What's the best part about serving Tennessee seniors?
Director of Nursing Nena will tell you, "My favorite part of working with this population is hearing the rich stories of their lives. I enjoy interacting with the extended family in providing care to their loved ones."
With a nursing career of over two decades, the past 12 years involved dedication to senior care communities. She loves living for the moment and making the most of every year we are given as human beings. If you find her lost in the woods with her family, don't worry; that's exactly where she wants to be.
How can I discover more about enjoying life at Avail Senior Living?
Our community includes 72 studios and apartments as well as 20 dedicated memory care suites. We provide tours of our community, and the person who will guide you will be avid dog lover and the first lady of Cleveland herself, Kim Sanders Brooks.
As our Sales and Marketing Director, Kim joined the Avail team after serving and growing Lee University for 24 years. After welcoming over 185,000 visitors to that campus, she is still bursting with personality and love for people.
Kim Sanders Brooks' facts:
She grew the Lee University Summer Conference Program from 2,000 attendees to almost 12,000 attendees.
Kim is an active member of the community serving on boards for The Caring Place, Habitat for Humanity of Cleveland, and Project Free 2 Fly.
She lives in Cleveland with her husband, Mayor Kevin Brooks, and son and makes runs up to Nashville to visit her daughter whenever possible.
You may know Kim as the first lady of Cleveland, but you should also know that she grew up in a large, loving family. Her parents provided foster care for countless children.
"I watched my parents give so much of their time, energy, and resources to complete strangers," she says. "I have no doubt this part of my life's journey shaped me into the person I am today."
It sounds like there's a lot of fun going on; who's running the business side of things?
We can't forget our other Kim. Kim King is Avail's Business Office Director. A native of Georgia, she now calls McDonald home, where she lives with her husband of 28 years.
Although she had originally set out to be a cosmetologist, she took a turn as many of us do and found her calling in senior living over two decades ago.
"I worked mostly with non-profit organizations and ultimately landed in senior living 21 years ago as a business office director, realizing I finally found my niche," says King.
Not one to be cooped up in an office all day, King became very popular during the pandemic.
"During Covid I was able to use my cosmetology experience and help with making residents feel beautiful during a very stressful time."
If you run into King, ask her to invite her daughter down to Avail to teach the residents how to throw some darts. Her daughter is second in the nation for hitting corks.
Who keeps the lights on at Avail Senior Living?
The safety of our residents is our highest priority. From making sure all the pipes are going to the right places to keeping the fire extinguishers up to date, Greg Moore, Director of Maintenance and Safety, is our guy.
Starting out owning and operating a remodeling and construction business, Greg began working with assisted living communities in 2013. As a licensed independent insurance claims adjuster, he traveled the country responding to catastrophic events. He's no stranger to danger and detecting a safe route out of it.
When Greg's away from Avail, he enjoys spending time with his wife, Lynn, traveling, and doing projects around the house. If you're looking for a variety of solutions, he's your guy.
What are the roots of Avail Senior Living?
A lover of family and all things active from pickleball to snowboarding, Chris Beckstrand has worn many hats (hard hat included) as Avail Senior Living's day-to-day operator. He knows the lifestyle and business of senior living inside and out and is proud to bring something different to the industry.
Before opening Avail, Chris directed operations for six senior living communities across four states in addition to:
Marketing Director at a small assisted living and memory care community in Sandy, UT
Management of Century Park Associates in Chattanooga, TN
Area Director of Operations at Morning Pointe Senior Living in the Knoxville region
He is thrilled to open Avail in Cleveland with a passionate management team, business partners, and investors. If you see him in the morning, greet him with "Bom dia," as he picked up speaking Portuguese on his 2-year mission to Recife, Brazil.
What people are saying about Chris:
Highly skilled in leadership
An excellent team-builder
Cool under pressure
A brilliant operations-oriented individual with an open mind and a big heart
How many people does it take to run a senior living community?
Quite a few. We would be nothing without the long list of dedicated caretakers, nurses, culinary members, maintenance professionals, housekeepers, drivers, administrators, directors, and investors. Keep an eye out for us on social media to meet even more of our team members.
Why choose Avail Senior Living?
With assistance from our team full of grace and experience, we're here to enhance the daily routines of Cleveland seniors in the following ways and more:
Helping them engage in their favorite hobbies or exploring new ones
Serving their preferred foods
Providing laundry, housekeeping, and transportation services
Encouraging them to make new friends in a comfortable environment
Overseeing the support and care they need
Want to know more about Avail Senior Living?
We are a beautiful addition to the Cleveland community; Kim can't wait to show you around. Contact us for a tour or visit us on Facebook for consistent updates. Want to spread positivity in your hometown? Join our team as a volunteer or start your career with us.