How Memory Care Dining Can Help Improve Health
You may be considering memory care if your loved one has been diagnosed with Alzheimer's or dementia. This form of long-term care supports seniors with memory loss and their family members.
Specialized services in memory care include a unique approach to dining. People with Alzheimer's and dementia can benefit from brain-healthy nutrition that is served a little differently than to an assisted living resident.
Many families on the journey of Alzheimer's in Tennessee choose communities like Avail Senior Living. We use memory care dining to support healthy brain and body function at Avail.
Continue reading to discover tips that make mealtime for people with dementia a positive experience.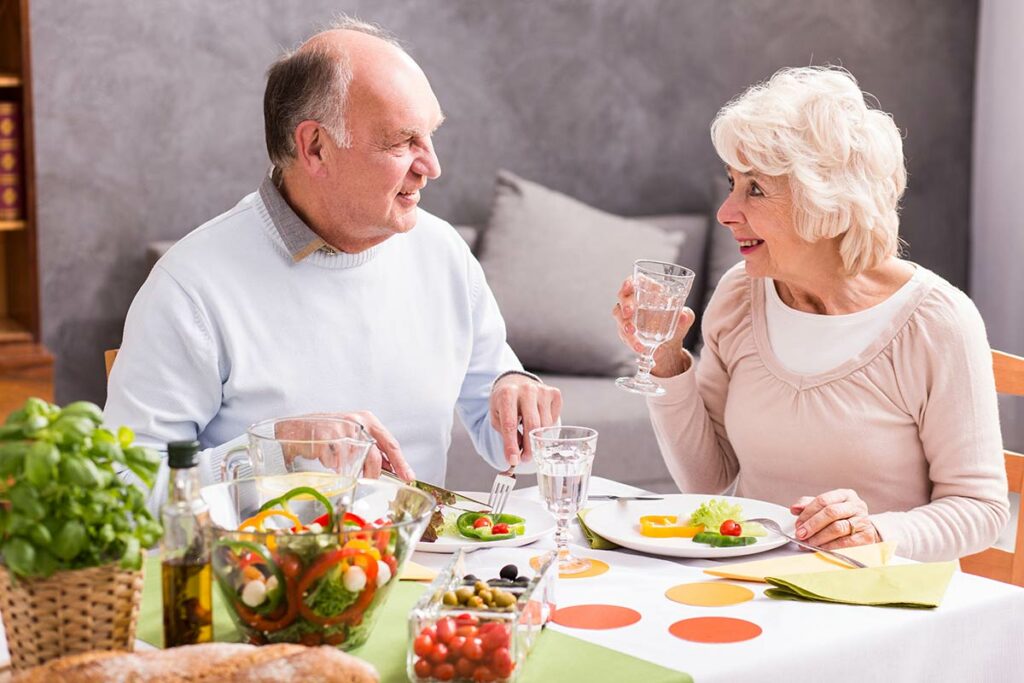 The Link Between Alzheimer's and Nutrition
There is a growing body of evidence that suggests there is a link between nutrition and Alzheimer's disease. One analysis found that people who ate a Mediterranean diet were 53 percent less likely to develop Alzheimer's than others on more traditional Western diets.
A Mediterranean diet includes foods such as:
Fresh fruits
Leafy green vegetables
Fatty fish
Olive oil
Whole grains
Nuts
Research cannot pinpoint why people with this diet are less likely to experience cognitive decline. However, a strong theory is a correlation to a healthy heart. Brain-healthy diets are also excellent for cardiovascular health and reducing the likelihood of vascular dementia.
While the exact mechanism by which diet affects Alzheimer's risk is unknown, it is believed that the antioxidants in fresh fruits and vegetables may help protect the brain from damage. The omega-3 fatty acids found in fish may also play a role in reducing inflammation throughout the body, including in the brain.
Will a healthy diet cure Alzheimer's?
There is currently no cure for Alzheimer's and most forms of dementia, but there are ways to manage symptoms and slow memory loss. Staying active mentally, physically, and socially can play a role. Of course, a healthy diet is vital to those goals.
Food is fuel, and a poor diet leads to a faster decline for any older adult:
A lack of essential nutrients leads to faster declines in cognitive function. Damaged brain cells cannot repair themselves without a supply of vitamins, minerals, and antioxidants.
A poor diet can also contribute to chronic inflammation, which has been linked to a higher risk of developing dementia. Inflammation in the brain can damage neurons and lead to cognitive impairment. It can also cause other health problems like joint pain, heart disease, and diabetes.
There is growing evidence that gut health is closely linked to brain health. A poor diet can disrupt the balance of beneficial bacteria in the gut, leading to inflammation and potentially harmful toxins that can travel to the brain.
A poor diet can also leave a person feeling sluggish and low energy. This feeling can make it harder to engage in physical activity, which is important for maintaining overall health and cognitive function. Inactivity can lead to muscle weakness, joint pain, and other health issues that can further impact a person's quality of life.
A poor diet can lead to many health issues for anyone, especially for people with dementia. Support a healthy brain and body by offering plenty of fruits, vegetables, whole grains, lean proteins, and healthy fats.
How to Make Mealtimes Successful for Someone with Dementia
Providing care for a loved one as a family member is an honorable duty. Mealtime can often be a tricky part of the day that requires a lot of patience. You may spend time making your loved one a favorite dish only to have it denied.
Tastes change with age. Memory loss, medications, and depression can lead to challenges with how a person with dementia eats. However, here are ten tips for successful mealtimes:
Reduce distractions and turn off the televisions, reduce noises, and keep the table clear
Use smaller plates that will make portions less overwhelming
Use contrasting plate colors, so loved ones can distinguish what is food and what is not
Use adaptive dishware with rims and suction technology to reduce spills
Provide finger foods if there are mobility issues
Offering two options can make the person feel less overwhelmed
Be prepared to have a backup meal available if the first choice is declined
Break meals down into smaller sections by offering vegetables first, followed by a protein
Eat with your loved one and enjoy the extra nutritious food
Remember to stay patient
Good nutrition is essential to wellness. Providing balanced meals on top of additional support and supervision duties can be difficult. Remember to take breaks and ask for help if you are a family caregiver. Consult local support resources like ​​Alzheimer's Tennessee, the Alzheimer's Association, and Avail Senior Living in Cleveland, TN.
At Avail, we provide memory care as a long-term solution and respite care for short-term relief.
Alzheimer's Care in Cleveland, Tennessee
Home-cooked meals are a significant benefit to our memory care community in Cleveland. It takes a unique and compassionate personality to work in senior living. Our Dining Services Director has a background in education before finding their calling in creativity and cooking.
Creativity is essential to a successful memory care dining experience. Residents have access to three scratch-cooked meals per day. Snacks are also readily available. Meal times are extra opportunities for residents to socialize and bond with others.
Our memory care program is in our senior living community's secure and calm neighborhood. Residents can be independent and participate in daily activities that give daily life meaning. The dementia support team also provides:
Activities of daily living assistance
Personal care and grooming
Housekeeping and home maintenance
Access to health care services
If you're considering memory care for a loved one with Alzheimer's, ask about the food service options. Good nutrition is essential for seniors with Alzheimer's or dementia. That is something we take very seriously at Avail Senior Living. Explore how our dining and care services can help you and your loved one live a high-quality lifestyle.
Tour A Memory Care Community in Tennessee
Contact us to arrange a personalized tour of our community. We can't wait to be a resource in your family's journey. Visit Avail today!